Feds Going After Fox for Hiding Roger Ailes' Sexual Extortion and Pay Offs of Victimized Employees from Victimized Shareholders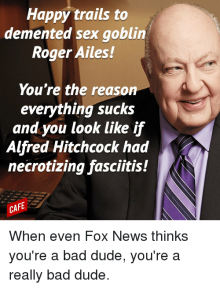 Insane freakish sex goblin and fascist propagandist Roger Ailes is going the fuck down as the feds are investigating the countless cases in which Fox News has had to pay off employees millions upon millions of dollars for Ailes' mashing. lued innuendo and sexual extortion.
The Hollywood Reporter is reporting this week: "On Wednesday, during a hearing regarding former Fox News personality Andrea Tantaros' lawsuit against network executives before New York Supreme Court Judge David Benjamin Cohen, an attorney for Tantaros said he'd been served with a subpoena by federal prosecutors investigating sexual harassment allegations directed at Ailes. Tantaros, who once served as a co-host of the afternoon show The Five, alleges in her lawsuit that Fox News "operated like a sex-fueled, Playboy Mansion-like cult."
Neonazi sex goblin and alleged extortionist Ailes is still at large, likely calling in twisted interpretations of fact and fantastic lies to the Fox News desk. Soon, Stinque hopes, Ailes will be in Allenwood, in a wedding dress with his wrists handcuffed to his ankles and shackled to a pipe in the showers.
If there is any justice, Stinque hopes and prays that Ailes will die shrieking his SIEG! HEILS! like his hero and inspiration Julius Streicher did at Nuremberg.
DIE! YOU SCUM-SUCKING PIECE OF DOG SHIT, FUCKING DIE!
Add a Comment
Please
log in
to post a comment