The Missives of December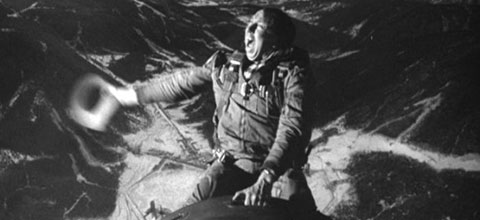 We are probably alive today because Jack Kennedy checked our military's impulses.
We were three during the Cuban Missile Crisis, and as such have no memory of it. Our introduction came much later, during the Seventies, thanks to an ABC dramatization starring William Devane as Jack, and Future Fake President Martin Sheen as Bobby.
The Missiles of October holds up pretty well four decades on, both against our teen memory and what we later learned. But you'll have to forgive Sheen's terrible Boston accent to get through it.
It's a few weeks before the 1962 midterms, and Jack is interrupted by a report that the Russkies are installing nukes in Cuba, ninety miles from Florida. He immediately assembles his military and civilian leadership, and the strong initial recommendation is to bomb and invade before the nukes are operational. But Bobby makes a stronger case for caution, and the next two weeks are spent desperately trying to avoid the seemingly inevitable.
Jack's driving fear was uncontrollable escalation: One wrong move might provoke a response from the Russians, demanding a stronger response from us, and back and forth until the next thing you know, the world is toast.
His fear was far from unfounded: Barbara Tuchman's The Guns of August, chronicling how Europe had stumbled into the Great War, had been published that year, and JFK didn't want to repeat the mistakes of history, especially with history-ending weapons.
Besides, the concept of "mutual assured destruction" — there's no point nuking Russia if Russia can nuke you back — was already well-established. Dr. Strangelove was more than a year away, but Kubrick was already busy with the script.
And yet, the idea that bombing and invasion might lead to catastrophic unintended consequences was not in the minds of Kennedy's generals. They wanted decisive immediate action, a show of strength, a demonstration that America would not be pushed around.
It took Bobby — who had made his reputation in the Fifties as a rabid McCarthyite anti-communist — to urge caution on brother Jack, to buy time, to calibrate the American response to allow the Russkies to retreat without looking like they were retreating.
The solution was to declare a naval blockade on incoming Russian vessels. And it worked, or else we'd be a half-century into Nuclear Winter, instead of delaying it until next year.
It took profoundly cool heads at the head of the American government to resist the demands of GENERALS and ADMIRALS that they invade Cuba with guns a-blazin'. And we thought it had long since been settled American policy that the best way to prevent nuclear war is to just get rid of the nukes, not build more.
But in less than a month, the greatest hothead in living memory will ascend to the presidency, accompanied by his very own Jack D. Ripper to stand aside him in the Situation Room as America's enemies start poking sticks at the new leader the way they always do.
God help us all.
Add a Comment
Please
log in
to post a comment