Bring Out Your Dread!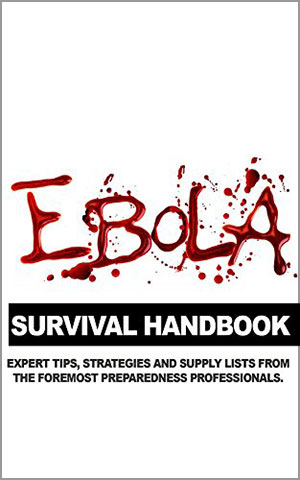 Title: "Ebola Survival Handbook: A Collection of Tips, Strategies, and Supply Lists From Some of the World's Best Preparedness Professionals"
Author: Lost Arts Publishing
Rank: 42
Blurb: "Ebola. Even the name of the virus conjures up mental images of a gruesome, agonizing, bloody death. Anyone who has scanned the news headlines lately has, at the very least, an inkling that a horrible disease is on the loose. It's anyone's best guess how soon this becomes a pandemic on American soil. While the Center for Disease Control and the World Health Organization have both expressed serious concerns that we are on the brink of disaster, border enforcement agencies seem blithely unconcerned. It's really up to you to protect your family."
Review: "Tells you what supplies you need, including how to care for your sick when the hospitals are full (and they will be) and dispose of your dead."
Customers Also Bought: "DuPont TY127S Tyvek Disposable Coverall with Hood, Elastic Cuff", "3M 8511 Particulate N95 Respirator with Valve", "Dewalt DPG82-11C Concealer Clear Anti-Fog Dual Mold Safety Goggle", "Medical Booties Shoe Covers Non Slip Package of 50 Pair", "Dynarex Black Nitrile Exam Gloves, Heavy-Duty, Powder Free, Large", "Ultimate Pandemic Virus Kit Module", "Lifestraw Personal Water Filter", and "The Prepper's Cookbook: 300 Recipes to Turn Your Emergency Food into Nutritious, Delicious, Life-Saving Meals".
Footnote: When your package arrives from Amazon, remember to kill and dispose properly the likely infectious UPS driver.
Buy or Die [Stinque@Amazon Kickback Link]
Add a Comment
Please
log in
to post a comment