Comedy Tonight.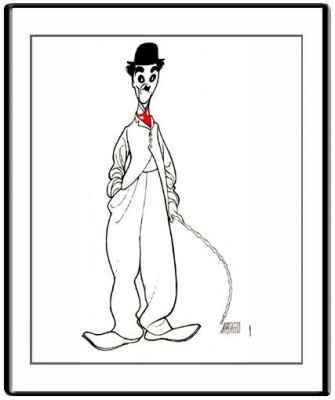 Remember newspapers?
Let me rephrase that: Remember when we read newspapers? Back then there was a publication known as The New York Times. Among the less important trivia that littered its pages like news about foreigners living in places that weren't the U.S., they published vital stuff like theatre reviews. Real New Yorkers would drag in the Sunday edition from outside their apartment door, put cream cheese and lox from Zabar's on the bagel they got from that place on the U.W.S. which is the ONLY PLACE IN THE CITY THAT KNOWS HOW TO MAKE THEM, tune to QXR, exhume the Arts and Anxiety supplement from where it was buried under the Real Estate and Sport sections, and try to find all the Ninas in that week's Hirshfield.
You don't know what I'm talking about, do you.
For many years, Al Hirshfield drew his celebrated caricatures for the Times. Alongside his signature for the Sunday edition (smaller individual drawings would often appear in the Friday edition beside what was then reckoned to be the most advantageously placed review of the week, reason being that men would take it home for the weekend and their wives would read it. I'm not making that up. That was the received wisdom of the day.) he would draw a number to indicate how many Ninas were hidden. The game was then to find them all, 'Nina' being the name of his daughter who did not appreciate this particular tribute from her doting dad.
Now before all of this became one of the more irritating ways New Yorkers dreamed up to demonstrate their superiority to the rest of us, Al lived an adventurous and peripatetic life. At some point in the early 1930s he was manager of a hotel on an island some damn place in the Pacific: Bora Bora? Samoa? I don't remember but that's no surprise I don't remember anything much except for how much I hate Mike Lee and all his works. As who among us doesn't? Where was I? Right, for the sake of argument let's say Samoa. One day a liner making a round-the-world voyage put in and guess who got off? That's right, Al's old friend Charlie Chaplin who was then at the zenith of his amazing career. Don't ask me how Al knew him, this happened in the Past when presumably everyone knew everyone else. Here's an important plot point so let's all try to stay awake: there was no movie house on the island, not even a projector, so no one knew who Chaplin was. At first he pretended to be relieved but that soon turned to annoyance – that's not me being snide, that's what sets Stars apart from you and me. That and the money. So Al got all the hotel staff plus guests into the dining room, cleared a space, and let Charlie be Charlie. Needless to say, he charmed and amazed them all and was locally famous till the ship sailed taking him on to fresh conquests.
In his later years Chaplin was largely forgotten apart from his notoriety. And the drive, ambition, and talent that propelled his earlier life became a torment. Which makes me think of Robin Williams. Though by no means forgotten his earlier colossal success was a thing of the past and I'm sure he found himself feeling worthless because he was no longer The Next Big Thing. No longer number one on everyone's casting list. I do know depression only too well. Not personally, but I do live with it. I also know how people react when the one thing they feel they do well – though never well enough – is taken from them.
If you haven't ever seen it here's that clip of Messrs. Williams and Crystal who arrive in the Friends coffee shop for no apparent reason and show everyone how it's done. It's heaven. Also, how many ninas do you see in the caricature?
Add a Comment
Please
log in
to post a comment