Fiddle-dee-dee!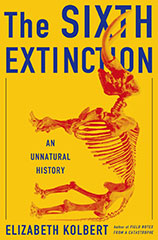 Title: "The Sixth Extinction: An Unnatural History"
Author: Elizabeth Kolbert
Rank: 6
Blurb: "Over the last half a billion years, there have been five mass extinctions, when the diversity of life on earth suddenly and dramatically contracted. Scientists around the world are currently monitoring the sixth extinction, predicted to be the most devastating extinction event since the asteroid impact that wiped out the dinosaurs. This time around, the cataclysm is us."
Review: "Humans pushing other species off the brink is nothing new."
Customers Also Bought: "Jonathan Swift: His Life and His World"
Footnote: Meanwhile, as Pareene observes, Meet the Press this morning features a "debate" over climate change between "a professional children's entertainer and a Republican member of Congress." The world is Rome, and we are all Nero.
Buy or Die [Stinque@Amazon Kickback Link]
Add a Comment
Please
log in
to post a comment