The Hole in the Doughnut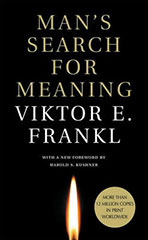 Title: "Man's Search for Meaning"
Author: Viktor E. Frankl
Rank: 91
Blurb: "Psychiatrist Viktor Frankl's memoir has riveted generations of readers with its descriptions of life in Nazi death camps and its lessons for spiritual survival. Between 1942 and 1945 Frankl labored in four different camps, including Auschwitz, while his parents, brother, and pregnant wife perished. Based on his own experience and the experiences of others he treated later in his practice, Frankl argues that we cannot avoid suffering but we can choose how to cope with it, find meaning in it, and move forward with renewed purpose. Frankl's theory — known as logotherapy, from the Greek word logos ('meaning') — holds that our primary drive in life is not pleasure, as Freud maintained, but the discovery and pursuit of what we personally find meaningful."
Review: "I am not familiar with this book. Did I order it? I cannot make an accurate assessment of this book." (Amazon Verified Purchase)
Customers Also Bought: "The Stranger", by Albert Camus
Footnote: We haven't read Frankl, but the description corresponds with something we've long understood and cherished: We're not just critters who use language — we're critters who use language to tell stories. Stories about ourselves, stories about the world, stories about life and the meaning of life.
Our ancient stories — our myths, our legends — endure because they were originally told, aloud, recited from generation to generation. And they weren't merely memorized, but evolved in the telling, finding a form — a rhythm, a heartbeat — that expressed our fundamental nature.
Whitman was right: We sing ourselves and celebrate ourselves. And any meaning we find, we make up as we go.
Buy or Die [Stinque@Amazon Kickback Link]
Add a Comment
Please
log in
to post a comment