Community Service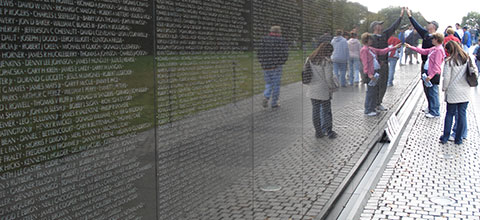 The first thing we did upon learning that WaPo's Dana Milbank had written a column advocating the Draft was look up (a) his age, and (b) his military service.
Having grown up during That Decade, you can understand why. Our babysitter had a Vietnam map on her livingroom wall, tracking the Last Known Locations of her son, the draftee Army cook. We checked our Number every year, even though we weren't even a teenager. We gave Serious Thought to Canada, at least as serious as a twelve-year-old could muster.
And then it all went away, and Our Generation gave the world Toga Parties.
But despite the fact we dodged the Draft — even dodged Registration, since Jimmy didn't dare piss off young voters with it in 1980 — we've never forgotten that sword hanging over our head growing up, our status as a potential pawn in Somebody Else's War. Whatever the Draft's justification in earlier eras, it didn't apply to ours.
So, to our research: Dana Milbank was born in 1968. He went to Yale, where he joined Skull & Bones. The only action he saw, near as we can tell, was as a Wall Street Journal reporter in London, where he was serving bravely at the time of his marriage at 25.
Not only did Dana Milbank miss the Draft — even Registration didn't kick in until he was twelve — he's lived a life that would have easily allowed him to avoid the Draft.
Of such things are Chickenhawks made:
But one change, over time, could reverse the problems that have built up over the past few decades: We should mandate military service for all Americans, men and women alike, when they turn 18. The idea is radical, unlikely and impractical — but it just might work.
See, there are few veterans in Congress or the White House these days, and "there is no better explanation for what has gone wrong in Washington in recent years", which can be boiled down to "a loss of control over the nation's debt, legislative stalemate and a disabling partisanship", and please ignore everything else that's happened since 1980 to bring us to this point, because I have a Big Idea that conveniently wouldn't affect me personally.
And hey, it works for Switzerland, so why not us?
Milbank of course isn't the first to propose a Draft as a cure for what ails us — despite Our Exceptional Nation living through what should have been a Counterargument for the Ages, the Draft keeps thrusting a hand out the grave, having nothing to do with, y'know, national defense.
Of course, living through Vietnam — even as a child — distorts our judgment, we're often told. But the number of real Drafts in our history are few — starting with Lincoln, returning with Wilson, resuming with Roosevelt, and reaffirmed with Truman and Johnson. A history of the Draft is a history of our major wars, as shown by the dates of Selective Service legislation: 1917, 1940, 1948, 1951, 1967.
Even the Founders were famously wary of standing armies, limiting funding to two-year increments and requiring Congress to declare war. They didn't see the Army as a surrogate for Community.
Oh, and they did that other thing, which eventually led to some really disabling partisanship and the first Draft some fourscore years later. Perhaps Milbank can find a Wayback Machine and explain to them how an earlier Draft would have solved everything.
Add a Comment
Please
log in
to post a comment