Empire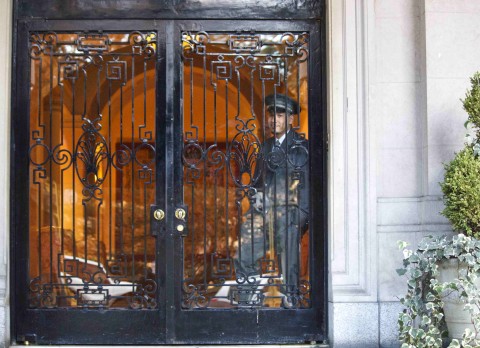 Jacob Adler, the great tragedian, performed in many European capitals. Of them all he declared the slums of London to be the worst he had ever seen. Worse than Russia or Paris, and worse than anything he would encounter in New York.
Dickens's friend and colleague Henry Mayhew invented the oral history when he walked the streets of London asking its poor what work they did and how they managed to survive. He talked to children as young as four who lived off the farthings earned by scraping together small nosegays from the broken flowers dropped from the trays of older flower sellers, perhaps nine or eleven, in Covent Garden. In its uncut form his masterwork chronicles in infinite detail the lives of those considered not worth the reckoning. As Pax Britannica made a small coterie unimaginably wealthy their fellow citizens died in the street. But perhaps that's the point. Perhaps the idea of of Empire that has infected certain societies at certain times demands the sacrifice of many so that some can believe themselves to be great. Ignoring the poor isn't enough. They must be kicked aside. They must pay the price. The young must die in war.
Which brings me to This American Life.
Recently our newish Prius has started to communicate via bluetooth with my iPhone. Imagine my surprise when without warning it insisted that I listen to a fairly recent podcast about Harper High in Chicago. From the program blurb:
We spent five months at Harper High School in Chicago, where last year alone 29 current and recent students were shot.

29.

We went to get a sense of what it means to live in the midst of all this gun violence, how teens and adults navigate a world of funerals and Homecoming dances.
Listen to it. Part One. Part Two. Yes, from time to time it gets a touch This American Lifeish, and yes from time to time you're going to want to punch Ira Glass, but the story cannot be ignored. Actually it can be ignored, is being ignored, will be ignored. These children are being written off as being not worthy of consideration, not worthy of our care. My own shock at hearing these voices shames me.
For Dickens, as I read him, the great crime was making children pay the price for the selfishness and folly of their parents. I don't know why it is that in the UK he has historically been seen as a Tory. Growing up it was not considered cool to admire him. Like Holman Hunt he was too brightly colored. Like Gilbert and Sullivan too jauntily jingoistic. But that was before Thatcher when we all became Tories and pre-Raphaelites sold for millions. We were allowed to admire the names he gave his characters while at the same time deploring his weakness for coincidence. Plus cloying death scenes. And talking ravens. Being entirely uneducated I had nothing to guide me through his work when I read him in my teens. As astonishing as I found Bleak House and Great Expectations, my temperament responded more to Hardy or Meredith –  who couldn't love a novel constructed to mimic a willow-pattern plate in which a father sells his daughter for a superior bottle of port? Then I read Les Miserables to understand, via Hugo, what Dickens had in mind when he had Oliver Twist be saved unknowingly by the grandfather who had cast out his daughter, Oliver's mother, to her death. Coincidence in Hugo is so massive, so preposterous, that it becomes clear he is describing the machinery of providence. I believe that Dickens wanted us to feel that it is the hand of God that points Oliver to his grandfather's house where wrongs will be righted and redemption is possible. At the end of the second part of the the Harper High story the principal describes her fantasy of winning the Powerball and of all she could do for the children with that money. And it seems to me she is describing the same hand of God seen from a different perspective. Redemption.
It's easy to be charmed by Oliver without experiencing the bone-numbing horror of his childhood. It's easy to be swept along by the sheer spectacle of Les Miz as are the two little boys who vanish from their guardian's hand never to be seen again. Literature protects us. Stories protect us. What are we to make of the children of Chicago? They can't be made lovable by Fagin. Or rescued by Jean Valjean. All they have is us.
Does empire inevitably mean that those who have the least must pay the most? Because those who have the most must feel they deserve it?
Add a Comment
Please
log in
to post a comment