The Taxi of Tomorrow
It isn't a hybrid. It isn't wheelchair accessible. It certainly isn't pretty.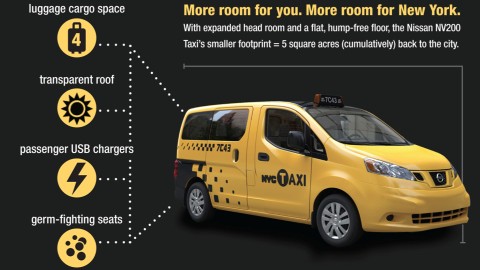 And now it isn't going to happen:
Despite Mayor-for-Life Bloomberg's fervent desires, a lower court state judge says not so fast:
A Manhattan Supreme Court judge has ruled that New York's Taxi and Limousine Commission overstepped their authoritywhen they mandated that all NYC cabs be Nissan's NV200-based New York Taxi. After October 28, all non-hybrid cabs in New York will become illegal, so those New Yorkers better figure something out, pronto.
So the Crown Vics, a large chunk of the fleet, are going away, and there's few cars that can replace them – the Toyota Prius, Camry, and Highlander, Nissan Altima, some VW clean diesels, Ford Escapes, and a few others.
Should be an interesting few months.
Add a Comment
Please
log in
to post a comment