Who Would Jesus Starve?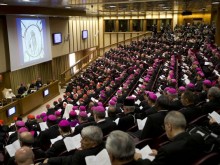 Proving yet again their hypocrisy and fixation for the pre-born over the born, a week before the government shutdown the U.S. Conference of Catholic Bishops sent a letter to Congress urging them to include the revocation of contraceptive coverage in the Affordable Care Act as one of the Republicans' hostage demands over the shutdown and raising the debt ceiling.
As Congress considers a Continuing Resolution and debt ceiling bill in the days to come, we reaffirm the vital importance of incorporating the policy of this bill into such "must-pass" legislation.
(emphasis theirs)
I guess it's okay that the 53% of LIVING American babies who receive benefits from the Supplemental Nutrition Program for Women, Infants & Children (WIC) will go without assistance ($109 million in unpaid vouchers as of this morning); that Head Start programs close their doors for early-childhood programs; that VA employees are being worked like rented mules to get benefits out the door for disabled veterans, and there aren't benefits being paid to survivors of dead soldiers; that NIH and NSF have had to cut off funding for scientific researchers that can stop illnesses and prolong lives; that the CDC has food inspectors furloughed so nobody is around to investigate salmonella outbreaks affecting people in 20 states; or that money from HUD to assist in funding affordable housing will dry up if this lasts much longer.
The important thing is that the church make sure those uppity whores who dare to have sex for any reason than to have a baby not have access to birth control.
Add a Comment
Please
log in
to post a comment