Hand-Edited Sentences!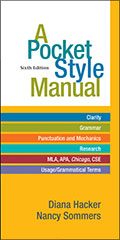 Title: "A Pocket Style Manual"
Authors: Diana Hacker and Nancy Sommers
Rank: 35
Blurb: "With its signature Hacker handbook quick-reference features—hand-edited sentences, color-coded documentation coverage, user-friendly index entries, and a clean, uncluttered design—A Pocket Style Manual has always provided fast, effective answers to writing and research questions."
Review: "Makes switching from MLA style to APA a snap."
Customers Also Bought: Umpteen other guides to ruining your writing.
Footnote: Fuck Chicago. No, really: Fuck Chicago. May it rot in Hell.
Buy or Die [Stinque@Amazon Kickback Link]
Add a Comment
Please
log in
to post a comment