Don't Let The Door Hit You in the Ass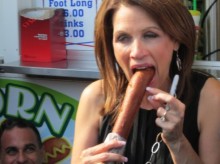 Oh man, what will late-night comedians and liberal bloggers do with Michele deciding to go spend more time with her ex-gay husband and family back in Minnesota?
UPDATE: Some news outlets saying the announcement was made at 3 am. Wouldn't have anything to do with the Congressional Ethics Committee investigation, right?
Add a Comment
Please
log in
to post a comment