Big Gay Fingers the Pope!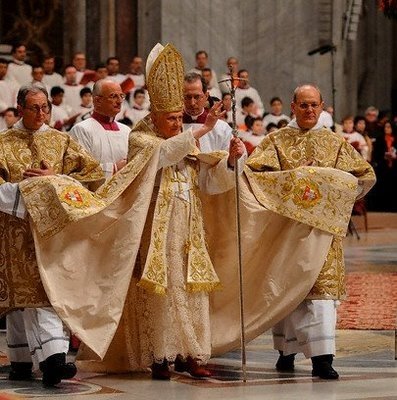 Is nothing sacred? Must Big Gay keep shoving gayness down everyone's throat?
Now it turns out Benedict XXCIVXX (no relation) was forced to retire before it was revealed that the Vatican is not much more than a gay knocking shop for gay prelates to do gay things with gay escorts and gay priests and gay cardinals and other random gays. Semen on the host? Anything's possible according to some kind of Italian Washington Times. See above linque.
Of course, Big Gay wasn't happy with His Holiness correctly pointing out that homosexuality is s greater threat to humanity than rainforest destruction so they vowed to nail him. (Warning: It's the Mail. If you've been wondering if life wouldn't be better in the UK just check the links to the right of the piece. And now think that the cost of living is about ninety million bajillion times what it is in the States plus you have to look at fat people on long red sofas on TV and no… unless you base quality of life on price of champagne in which case you might have a point.)
Today the Pope tomorrow Trump?
No hot asian boys were harmed making this post.
Add a Comment
Please
log in
to post a comment