Too Little Too Late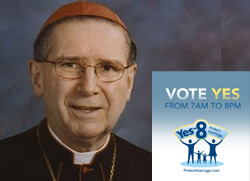 I would have hoped for criminal charges of obstruction of justice and aiding and abetting child molestation, but I guess this is some sort of symbolic start. Maybe for their next gesture they can stop crawling all up in the wimminz' lady-bits and pissing themselves over the gheyz and oh, I don't know, reread Matthew 25:35-36 and start trying to act accordingly.
In a move unprecedented in the American Catholic Church, Los Angeles Archbishop Jose Gomez announced Thursday that he had relieved his predecessor, Cardinal Roger M. Mahony, of all public duties over his mishandling of clergy sex abuse of children decades ago.

[…]

Gomez's decision capped a two-week period in which the publication of 25-year-old files fueled a new round of condemnation of the L.A. archdiocese. The files of 14 clerics accused of abuse became public in a court case last Monday. They laid out in Mahony and Curry's own words how the church hierarchy had plotted to keep law enforcement from learning that children had been molested at the hands of priests.

To stave off investigations, Mahony and Curry gave priests they knew had abused children out-of-state assignments and kept them from seeing therapists who might alert authorities.

Mahony and Curry both issued apologies, with the cardinal saying he had not realized the extent of harm done to children until he met with victims during civil litigation. "I am sorry," he said.
Add a Comment
Please
log in
to post a comment