Texas Again, and Georgia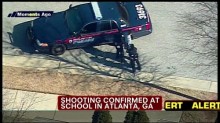 Atlanta:
Police say that two people have been shot at Atlanta's Price Middle School in an incident that took place Thursday afternoon. According to Atlanta's NBC Channel 11, officers are on the scene along with medical personnel.

The two gunshot victims are alive, one adult woman who suffered minor scrapes and bruises, and a 14-year-old who is currently at Grady Memorial Hospital, sources say. The school is currently on lockdown and parents are being asked to stay away until the situation is under control in order to avoid confusion.
Kaufman County Sheriff's Department spokeswoman Pat Laney said the suspects ambushed the assistant DA on his way in to court and shot him multiple times in a parking lot at about 8:50 a.m. They then fled the scene. The courthouse was locked down and later closed for the day.
The ADA, Mark Hasse, had recently gotten guilty pleas from a couple of white supremacists, which might explain the ambush (that killed him, by the way).
Add a Comment
Please
log in
to post a comment