October Surprise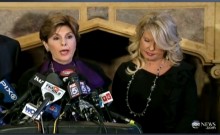 Will Gloria Allred finally do something that earns her our respect?
The Republican party is bracing itself – and preparing to fight back – against Gloria Allred's rumored "October Surprise" on Republican presidential hopeful, Mitt Romney, RadarOnline.com is exclusively reporting.

"We're doing too well to risk 'an Allred,' she can be stopped, but it will take action on our behalf," a GOP watchdog group blogged, asking supporters to contact Romney's campaign headquarters, the Republican National Committee and Judicial Watch.
However, Drudge is the source, so this might be a bunch of shite:
As previously reported, Drudge Report founder and respected politico, Matt Drudge, tweeted Thursday: "Here she comes. Hearing Gloria Allred out there again, about to make a move. After all, it's her time of the campaign. Team O at the ready!"
Wonder what it could be … the tax returns? A sister wife? Hookers?
Add a Comment
Please
log in
to post a comment