There's No Loser Like a Sore Loser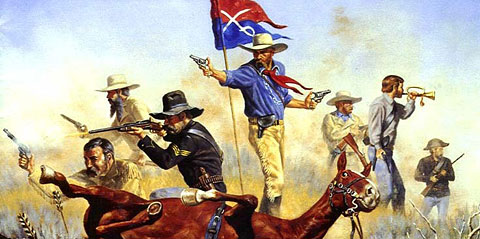 Our guest columnist is Pat Rogers, National Committeeman of the Republican Party of New Mexico.
Sent: Friday, June 08, 2012, 7:17 AM
From: Patrick J. Rogers
Subject: FW: New Mexico governor meets with American Indian leaders in tribal-state summit
Quislings, French surrender monkeys, secret supporters (all along) of JAJ.
The state is going to hell. Col. Weh would not have dishonored Col. Custer in this manner.
I hope who ever recommended this is required to read the entire redist transcript and sit through the entire meeting with the Gov.
Footnotes:
1. Mr. Rogers is referring to an attached news story, which describes New Mexico Governor Susana Martinez attending a legally required annual meeting with tribal leaders.
2. We have no idea what JAJ refers to, unless Mr. Rogers dislikes boy-band heartthrob Joseph Adam Jonas.
3. Allen Weh was the Republican candidate for New Mexico governor in 2010, and had a role in the Bush-era U.S. Attorney firings.
4. The Battle of the Little Bighorn was fought on June 25 and 26, 1876, in Montana, against the Lakota, Northern Cheyenne and Arapaho, none of whom have a significant presence in New Mexico.
5. Custer lost.
Add a Comment
Please
log in
to post a comment