Colorado is Burning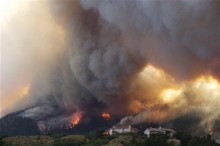 Was going to resort to a couple cat videos, but this popped up:
(NEWSER) – At least 32,000 people have been evacuated from the Colorado Springs area as the monster Waldo Springs wildfire continues to burn out of control. Witnesses described "apocalyptic" scenes as the fire, which has breached fire lines and destroyed an unknown number of homes, unleashed waves of flame and showered ash on roadways full of evacuees, the Denver Post reports. The fire is less than five miles from the grounds of the US Air Force Academy, which has been partially evacuated.
Firefighters throughout the interior West are battling blazes caused by dry conditions combined with what the head of climate monitoring at the National Climatic Data Center calls "a super-heated spike on top of a decades-long warming trend," AP reports. The record-setting heat, which isn't expected to let up soon, is "extremely taxing" on firefighters working long days and carrying heavy equipment, warns a spokesman for the US Forest Service.
And just a couple weeks ago there's this:
Rep. Mike Coffman, another Colorado Republican, said: "Climate change is naturally occurring. What influence do we have over that, we certainly need to look into, but that's subject to debate."
Debate the fact that people you represent are suffering, asshole.
Add a Comment
Please
log in
to post a comment