NRO Racist of the Day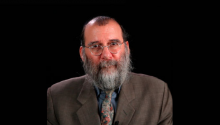 Lose a racist, gain a racist:
There is a reason the founding fathers did not give women or black slaves the right to vote. You might not agree or like the idea but this country's founders, otherwise held in the highest esteem for their understanding of human nature and its affect on political society, certainly took it seriously. Why is that? Were they so flawed in their political reckonings that they manhandled the most important aspect of a free society – the vote? If the vote counts for so much in a free and liberal democracy as we 'know' it today, why did they limit the vote so dramatically.
That's David Yerushalmi folks, the new Derbyshire …. Then there's this:
– It shall be a felony punishable by 20 years in prison to knowingly act in furtherance of, or to support the, adherence to Islam.

– The Congress of the United States of America shall declare the US at war with the Muslim Nation or Umma.

– The President of the United States of America shall immediately declare that all non-US citizen Muslims are Alien Enemies under Chapter 3 of Title 50 of the US Code and shall be subject to immediate deportation.

– No Muslim shall be granted an entry visa into the United States of America.
How bad is this guy? Even the horrible Abe Foxman won't even talk to him:
The long term national executive director of the ADL, Abe Foxman, has accused the author of ALAC, David Yerushalmi, Esq. of being an "extremist" and "racist bigot".
So head over to The Corner if you dare – I predict less than a month until he's fired.
Add a Comment
Please
log in
to post a comment