How Many Olives For That Spanakopita?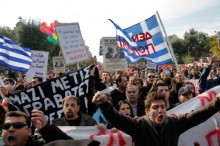 Our Galtian Overlords run the economy into the ground to the point where people don't have jobs or money, then wonder why this happens:
The Volos barter network — people can join for free online — started two years ago with only 15 members.  As the Greek economy continued its rapid decline the network mushroomed to 600 active members. About 400 more are registered with the network.

"People need some way out, some other way to do things.  I guess also people need to get to know each other," said founding member Christos Papaioannu.

The market is not simply about trading goods — it is a way for people to reconnect with their community and foment solidarity during difficult times.
The beatings will continue until morale improves.
Add a Comment
Please
log in
to post a comment