No One Could Have Predicted …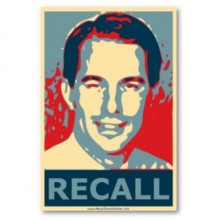 Wisconsin:
Tom Barrett's Wisconsin campaign is sounding the alarm, with finance director Mary Urbina-McCarthy warning supporters in an email Monday night of a mysterious round of phone calls to suppress voting:

"I'm in our situation room right now and I have an urgent update about the state of the race on the ground. Reports coming into our call center have confirmed that Walker's allies just launched a massive wave of voter suppression calls to recall petition signers. Here is what people are receiving across Wisconsin:

'If you signed the recall petition, your job is done and you don't need to vote on Tuesday.'"
One thing about the GOP – when they have power, they use it – no Democrat-style dithering.
Add a Comment
Please
log in
to post a comment