Because Austerity Always Works!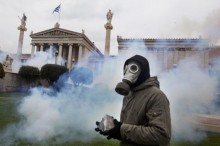 Let the beatings continue until morale improves:
Greece is broke and close to being broken. It is a country where children are fainting in school because they are hungry, where 20,000 Athenians are scavenging through waste tips for food, and where the lifeblood of a modern economy – credit – is fast drying up.

It is a country where the fascists and the anarchists battle for control of the streets, where immigrants fear to go out at night and where a woman whispers "it's like the Weimar republic" as a motorcycle cavalcade from the Golden Dawn party, devotees of Adolf Hitler, cruises past the parliament building. Graffiti says: "Foreigners get out of Greece. Greece is for the Greeks. I will vote for Golden Dawn to remove the filth from the country."
The people Atrios refers to as our Galtian Overlords are truly horrible. This is what happens when people have no jobs and no money.
Add a Comment
Please
log in
to post a comment