Portrait of the Candidate as a Young Douchebag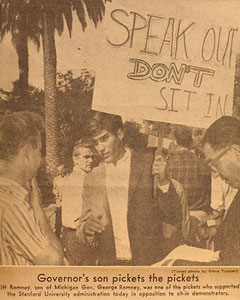 During our time inhabiting This Mortal Coil, we have seen the election — okay, election, ascension, and coup — of ten Preznidents.
Here are their ages upon election/ascension/coup, in order: 43, 55, 55, 61, 52, 69, 64, 46, 54, 47.
But let's throw out Ford (61) because he wasn't elected. And let's throw out Reagan (69) because he's an outlier, and Bush I (64) because he was drafting on Reagan, and couldn't get elected on his own eight years earlier.
Result? America prefers its Preznidents between 45 and 55, to make a nice soundbite range out of it. Old enough to know a thing or two, young enough to still do something about it. 65 may not mean what it used to, but it's still Retirement Age. Even Ike was only a spry 62 in 1952, and he beat the Nazis, so cut him some slack.
Mitt's age isn't going to be an issue this year, but he's only a year younger than Bubba and Shrub — not just Baby Boom, but Baby Boom defined, when all those horny soldiers came home from the War and fucked like bunnies.
Which means we're in for the final installment of the Vietnamization of American Politics.
Andrew Kaczynski, BuzzFeed's intrepid archivist, unearthed this fine specimen from Spring 1966, around the time Don Draper was grooving out to "Tomorrow Never Knows". Let's have a gander at the caption:
Governor's Son Pickets the Pickets

Mitt Romney, son of Michigan Gov. George Romney, was one of the pickets who supported the Stanford University administration today in opposition to sit-in demonstrators.
For context, here's a recent Stanford Historical Society article:
The spring of 1966 saw the university's first sit-in. A few dozen students occupied the President's Office in Building 10, protesting the fact that Stanford was administering standardized Selective Service examinations through which students could qualify for continued exemption from the draft. The Stanford Committee for Peace in Vietnam (SCPV) objected that the exams signified cooperation with the war effort and aided privileged university students. Other Stanford students marched in the Quad to protest the protest and outnumbered the sitters-in.
That's our Mitt — siding with The Man. And as we know, Mitt fulfilled his service to Our Exceptional Nation by annoying heathens in France with his heretical cultism.
What bothers us isn't that Mitt is a Chicken Hawk — we already knew that — but Jesus Christ, do we have to go through this again? Vietnam has been on the agenda all our fucking life, and at this point we'd rather endure it through the ironic detachment of a hip retro television series than see it arise yet again in national politics.
And that's the problem: It's not that Mitt is too old. It's that his life is a bad trip.
Add a Comment
Please
log in
to post a comment