Mothers of Invention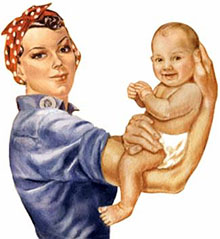 We enjoyed as much as anyone the recent spate of satiric penis-regulation bills, concocted (ahem) in response to the recent spate of all-too-nonsatiric vaginal-ultrasound bills. But we have to give the award to the first Mommy Wars bill in the nation:
Under current law, raising children does not count toward the required "work activity" that must be performed by recipients of Temporary Assistance to Needy Families, the federal program that emerged from the 1996 welfare reform. Some states make an exception for mothers with children less than a year old.

The Women's Option to Raise Kids (WORK) Act, a copy of which was provided to HuffPost in advance of its introduction, would allow mothers with children ages 3 and under to stay at home with their children and continue receiving benefits.
The act is a response to Mitt Romney, who knows the value of wealthy white Mormon mothers, but considers non-horsey poor moms a bunch of deadbeat slackers who don't understand the "dignity of work" because they can't afford live-in nannies to demonstrate it for them.
Credit goes to John Lewis, Gwen Moore, Barbara Lee, Jim McDermott, Lynn Woolsey, Jan Schakowsky and Rosa DeLauro, who will introduce the bill in the House. Demerits go to HuffPo, for not posting the draft bill itself, and for insisting on calling itself "HuffPost".
Add a Comment
Please
log in
to post a comment