We Retract the Skittles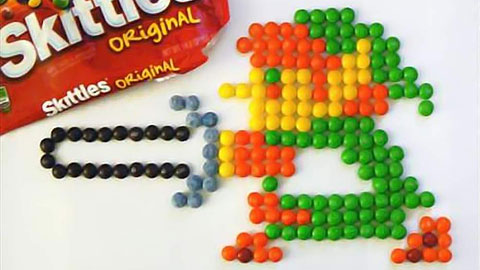 William A. Jacobson, like us a tireless seeker of truth, asks a pointed question that blows the Left's narrative of the Trayvon Martin case wide open:
What is the source of this fact that Skittles and a bottle of ice tea were found with Martin?
We confess: When we first attempted to nail down the facts of the case, we neglected to source the Skittles. For that matter, we never bothered to confirm that Trayvon visited a 7-Eleven, and not a Circle K instead. We also don't have an independent witness who can verify that Trayvon left home during halftime of the NBA All-Star Game, and wasn't watching America's Funniest Home Videos.
This changes everything.
If, for example, evidence emerges that Trayvon Martin was packing M&Ms and a Big Gulp instead of Skittles and Arizona Iced Tea, nobody in America would disagree that George Zimmerman was both legally and morally justified in shooting him with a Kel-Tek 9mm semiautomatic handgun — just as Trayvon's school suspension for an empty pot baggie casts serious doubt on his intentions while walking through his father's neighborhood unarmed.
Similarly, the Shocking! revelation that Trayvon Martin engaged in Social Media makes us discount the possibility that he was defending himself against an armed attacker, and throws the preponderance of evidence in favor of a pistol-packing serial 911 caller who didn't want that asshole to get away.
And it goes without saying that anyone who still has a MySpace account cannot be trusted.
We apologize for our Failure of Narrative. Because only one thing would provide conclusive proof of Trayvon Martin's innocence. But he's not White.
Add a Comment
Please
log in
to post a comment