I Didn't Ask You for Any Lip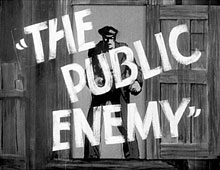 We've been ignoring the police-station video of George Zimmerman, because it's wayyyyyy too easy to read into it what you want to, and we don't think the images support any definitive conclusions.
We're more interested in the visit police paid to Trayvon Martin's dad two days later, and his account of how they explained the shooting to him:
Trayvon Martin appeared from behind a building in Zimmerman's gated community, approached him and demanded, "What's your problem, homie?"

When Zimmerman replied that he didn't have a problem, Martin said, "You do now." The unarmed teenager hit Zimmerman, knocked him to the ground, pinned him down and told him to "shut the fuck up."

During the beating, Zimmerman pulled his gun and fired one shot at close range into Martin's chest. "You got me," the teenager said, falling backward.
You got me?
Bear in mind the degrees of separation here: Trayvon's dad recalling a police account of George Zimmerman's account of the shooting itself. We're not entering it into the record until we see a transcript of the interrogation itself.
But still: You got me? When did this turn into a Jimmy Cagney movie?
Add a Comment
Please
log in
to post a comment