Will You Declare a Fatwa Every Time We Score?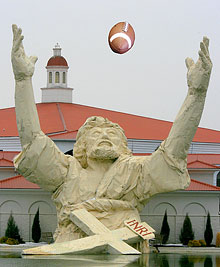 Our guest columnist is the Texas Association of Private and Parochial Schools, a predominantly Christian athletics organization, which submitted this questionnaire to Iman Academy SW of Houston when it requested membership in 2010.
Members of the Tapps executive board have little knowledge of Islam and the Koran, so it is possible that some of the passages taken from the Koran have been taken out of context. If so, please help them understand.
What is your attitude about the spread of Islam in America? What are the goals of your school in this regard?
When was the Bible allegedly polluted? Does the Koran actually state that the Bible is polluted?
How does your school address certain Christian concepts? (i.e. celebrating Christmas)
Historically, there is nothing in the Koran that fully embraces Christianity or Judaism in the way a Christian and/or a Jew understands his religion. Why, then, are you interested in joining an association whose basic beliefs your religion condemns?
It is our understanding that the Koran tells you not to mix with (and even eliminate) the infidels. Christians and Jews fall into that category. Why do you wish to join an organization whose membership is in disagreement with your religious beliefs?
Image: Feast of Fun
Add a Comment
Please
log in
to post a comment