The Santorum Inquisition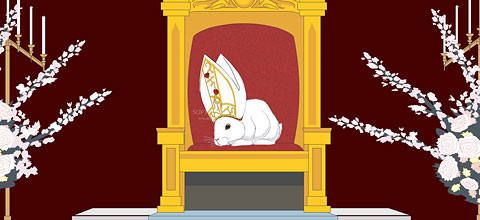 For years, Rick Santorum has been known primarily for two things: his titular definition, and his crying daughter. And in the years following his 2006 Senate smackdown, there's been little reason to know any more.
But now that he's leading the pack, however transiently, we're learning that Santorum spreads much wider than we've suspected. He's not just a bigot. He's not just a bigoted wingnut. He's not even just a bigoted wingnut fundamentalist.
Rick Santorum is a Holy Warrior.
The picture came into focus with the discovery of a talk Santorum gave four years ago at Ave Maria University in Florida. (Founded by Domino's Pizza money, but that's another meme.) Satan himself was waging war on America, he said, first by attacking higher education — and, by extension, anyone with a college degree — then by taking down "mainstream" Protestants. All that remained in Our Exceptional Nation's defense was — well, heroic Catholics like Rick Santorum.
In other words, Rick Santorum now wants to be President of a country that he says has gone to Hell.
With that in mind, his remarks about abortion, about birth control, about non-procreative sex, about homosexuality, about this…
[Saturday, Santorum] lambasted the president's health care law requiring insurance policies to include free prenatal testing, "because free prenatal testing ends up in more abortions and therefore less care that has to be done because we cull the ranks of the disabled in our society."
…all take on new meaning. Rick Santorum is not a bog-standard Culture Warrior. He wants to establish an American Caliphate, to keep the Devil at bay.
At this point, we're supposed to say that Rick Santorum is dangerous — that if he ever seized power, the rest of us would be in a heap o' trouble. But even if he survives Invincible Mitt, he'll never seize power.
Why? Well, it comes down to all those Americans the Devil has already captured.
They still vote.
Add a Comment
Please
log in
to post a comment