Rhythm Methodology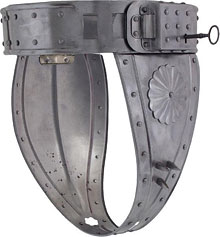 While writing Monday's Morning Blather, we considered including the statistic everyone's been mentioning the past week: That 98 percent of American women used contraception. This, we discovered upon chasing down the source, is true.
Only it doesn't exactly say what everyone says it says.
Andrew Sullivan, ruminating on the subject yesterday, expressed it this way:
The Bishops fail to see any difference. They want contraception, practised by 98 percent of Catholic women, and critical to preventing higher rates of abortion, kept out of any healthcare plan an employer decides.
The study we found — a 2010 CDC survey — doesn't include the faith of respondents, but otherwise it's in, um, broad agreement:
More than 99% of women 15–44 years of age who have ever had sexual intercourse with a male (referred to as ''sexually experienced women'') have used at least one contraceptive method.
There are two catches to this statement. The first is that "contraceptive method" covers twenty-one examples, twenty of which aren't the Pill. The second is that there's a stark difference between lifetime use and current use.
Neither of these catches undermines the general assertion, but for the sake of clarity, we chose to say that "four out of five American women have used the Pilll". This may not be as spectacular as a meme-inviting "99 percent", but it's solid enough in itself without being misleading.
Because when you look at the Lifetime Contraception Winner's Circle, it doesn't quite paint the picture you're looking for:
• Condom: 93%
• Pill: 82%
• Withdrawal: 58%
Needless to say, two of these things are not at issue, although one of them is expressly condemned by Genesis.
The CDC survey also asked women which contraceptive method they used in the past three months, and here the responses are even less overwhelming:
• Pill: 17%
• Female sterilization: 17%
• Condom: 10%
Why the low numbers? Well, for starters, one in five hadn't been laid recently — a number substantially unchanged in thirty years, if you're keeping score. (And where's the outrage? Surely some other advanced Western democracy is getting more than we are.)
Like we say, the snapshot view doesn't undermine the lifetime landscape, but there's a big difference between is and have. It's accurate to say that 99 percent of American women have practiced some form of contraception at some point in their lives. But don't let that mislead you into thinking that all of them are doing it now. It makes a great rallying cry, but we're the ones who are supposed to live in truth.
Add a Comment
Please
log in
to post a comment