Last Super Bowl XLVI Before World Ends
(But, you know, there will only be one Super Bowl XLVI.  So this WILL be the last one before the Apocalypse.  So.  IS THIS THING ON?)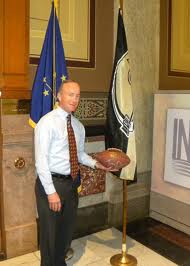 In terms of the battle for the bad-jokes crown: the preceding has been challenged to some Outclass Warfare by the damp squib that Occupy Super Bowl has turned out to be.  If the intent was to get attention?  At the moment — I've just caught the tail-end of the FIVE HOURS OF PREGAME — we have talking-heads making picks on the game.  On Twitter?  #OccupySuperBowl is nothing but a string of retweets of Cornel West.  Which is fine, but not indicative of mass revolt.
Speaking of mass revolt?  You know who did pull that off to great effect?  The Minutemen.  So it says here Patriots (-3 pts) def. Giants — it's this year's 10,000 STAR LOCK.
So: will Tom Brady get another ring?  Will Eli Manning get another ring?  Will the size of the diamonds on either ring indicate how much he is loved by the betrothed?  Answers, and snark on Madge and ads and NBC tie-ins, follow in this SUPER BOWL SUPER OPEN THREAD.
Add a Comment
Please
log in
to post a comment