Home is Where the Froth Is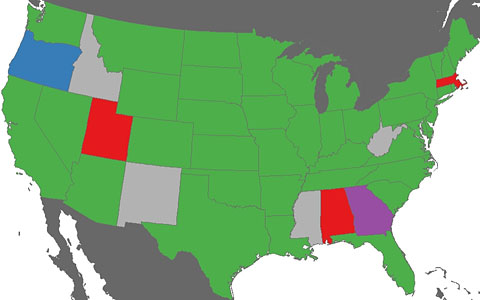 We bitch about the rain, we bitch about the Ducks, we bitch about Animal House — all of which, as a native Eugenean Oregonian in Sandy Eggian Exile, is our birthright. But every once in awhile, something comes along to remind us of the Eugene we loved, the Eugene where everybody wears socks with their Birks without thinking twice.
It works like this: Some enterprising geeks have mapped "geotagged online content" for each of the Republican candidates — that is, detecting the source of an online reference. If you group those references by state, you can see that Ron Paul (green) draws the most online chatter, distantly trailed by Mitt Romney (red) and Newt Gingrich (purple).
And then there's Oregon, in blue, the lone holdout for — wait a sec, Rick Santorum?
Santorum's "win" in Oregon is primarily due to his "Google problem", with numerous references to the alternative meaning in Eugene.
That's the Eugene we come from: The Anal-Sex Reference Capital of America. Suck it, Portlandia.
Add a Comment
Please
log in
to post a comment