Birther Cagematch!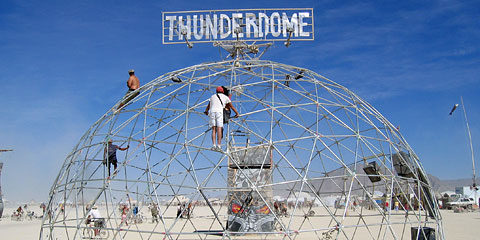 Las Vegas political columnist Jon Ralston tweeted a nugget yesterday that we hadn't noticed at WorldNetDaily:
Had no clue about Romney birthers! Woman calls to get me on Pulitzer-in-waiting story that George R. was Mexican citizen, Mitt ineligible.
As we know, the Romney Clan took a little detour south of the border a century ago to escape the tyranny of Singular Opposite Marriage, only to return when a pesky revolution interrupted their Big Love Bliss. Mitt's dad — 1968 Preznidential candidate George Romney — happened to drop in Chihuahua in 1907, which might have raised qualification issues, had anybody cared.
But Anchor Baby Mitt? Detroit, 1947. Have we voted Michigan off the island because of all its Muslims?
Well, no. What the esteemed Mr. Ralston discovered was Advanced Birtherism.
The argument, however delightfully misguided, is simple: To be a Natural Born Citizen, you need Natural Born Parents. The Kenyan Usurper, even if he was squirted out in Honolulu, is still tainted by Alien Sperm. And to their credit, Advanced Birthers are consistent on the matter, also ruling out Marco Rubio and Bobby Jindal.
If you want to get into the weeds — and heck, why not? — you could make the counter-argument that while George Romney was born in Mexico, the family somehow retained U.S. citizenship while intending never to return. But then we'd have to investigate whether George held dual citizenship as a child, and our amusement ends when effort begins.
But not to worry. We're sure we'll rekindle our amusement when Orly Taitz picks up the scent.
Add a Comment
Please
log in
to post a comment