Auld Acquaintance.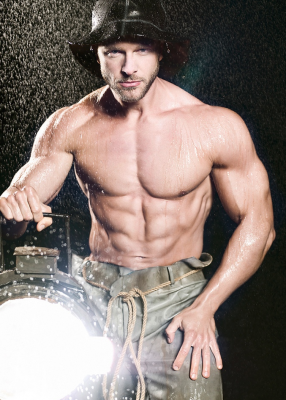 At this time of the year, when it becomes necessary to explain to Americans that no, it is not 'New Years' but ' 'New Year's Eve' and exactly what is meant by 'auld lang syne' (try explaining that to a dancer, I dare you) it occurs to me to step back and remember He who makes our little community possible.
Those of us who lived through the Great Migration might perhaps have a more pronounced wet spot for our own Dear Leader than newcomers but let's all of us take a moment to think of Noje and thank him for sticking with us through yet another year. As our world contracts to a few blogs and reruns of That 70s Show, it's important to keep close to our collective heart those balmy days of yore when our hopes were high and happiness seemed to be within our reach.
Our New Year anthem was composed by Robert Burns, poet, drunkard, Stinquer avant la lettre, who died in the gutter, forgotten, penniless. As the resident Scot let me now remember his words:
Should auld acquaintance be forgot,
and never brought to mind ?
It's a question. Should we remember the past? Or is it too painful?
Should auld acquaintance be forgot,
and auld lang syn?
He rephrases the question. Auld lang syn (the spelling I prefer) is time long since gone. He will develop this idea in the refrain:
For auld lang syn, my jo, (dearest, darling, in the vernacular)
for auld lang syn,
we'll tak a cup o' kindness yet,
for auld lang syn.
We'll cherish what's past, hold on to the past and drink to it. Another refrain:
And surely ye'll be your pint-stowp !
and surely I'll be mine !
And we'll tak a cup o' kindness yet,
for auld lang syn.
Meaning, when you get to Sandy Eggo you can buy your own beer and I'll buy mine. Meaning that we'll both have the money and ability, birks and/or socks notwithstanding.
We twa hae run about the braes,
and pu'd the gowans fine ;
But we've wander'd mony a weary fit,
sin auld lang syn.
'Braes' means hillsides. In the Scotland of my boyhood this was a world of heather and fine bright days, tablet (toffee) and cloutie dumplings, coal mines, exquisite kippers, and my grandmother's endless attempts to have me baptized into the kirk. For the Sassenachs among us, heather is a wiry shrub that grows two to three feet high and which blooms purple or white in the late summer turning the hills into splendour. The poet here remembers an idyll of youth when 'we twa', the two of us, spent our days picking wildflowers before the cares of life descended in what can seem at times to be a never-ending stream of misfortune or, as the Scots say, 'shite'.
In the next refrain the poet gives voice to a particularly lovely image:
We twa hae paidl'd i' the burn,
frae morning sun till dine ;
But seas between us braid hae roar'd
sin auld lang syn.
We two once paddled in the brook/stream
From morning till dinner,
But since then oceans have come between us
Since the old days – implying youth, childhood, boyhood, girlhood.
Then he continues:
And there's a hand, my trusty fiere!
and gie's a hand o' thine !
And we'll tak a right gude-willy waught,
for auld lang syn.
Here's my hand, old friend.
Give me your hand in return.
And we'll take a good-will drink together (waught pronounced wo-cht, with a long aspirated blowing of breath somewhere between the wh of who and the ch of choose, a particularly scottish sound; eg. Loch, och, )
To remember the old days we shared.
And so on. You all know the tune. You can see in the dialect the lingering remnants of the fierce old tongue, when Scots were the terror of the north, when the Romans built a wall to keep them out, before the English fenced the commons and destroyed the clans. (sidebar: tartan is a fabric woven in a particular pattern to denote clan allegiance; plaid is the long rectangle of tartan a man wears over his shoulder and which, in inclement weather, is unfolded to become a cloak. The two should not be confused. I will gladly demonstrate the correct technique for marching while wearing a kilt next time we meet. Hint: It's all about the ass)
So let's take a moment to remember Rabbie (as my mother insisted on calling him), staggering about the streets, puking in doorways, and our own dear Noje, flexing his toes in Sandy Eggo as cats play with his iPad.
And let's wish him long life and happiness.
Here's tae us.
Wha's like us?
Damn few!
PS. Image is of random Scot. We all look like that. It's not porn it's fashion.
Add a Comment
Please
log in
to post a comment