Last-Minute Stocking-Stuffer Idea!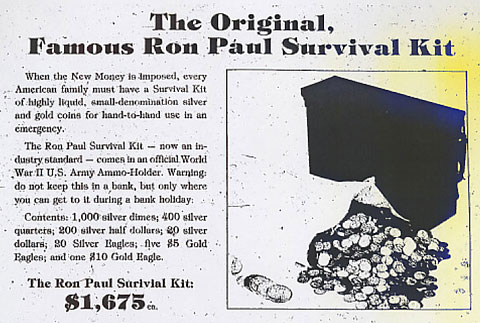 Our guest columnist must have had an awesome backyard fallout shelter.
When the New Money is imposed, every American family must have a Survival Kit of highly liquid, small-denomination silver and gold coins for hand-to-hand use in an emergency.
The Ron Paul Survival Kit — now an industry standard — comes in an official World War II U.S. Army Ammo-Holder. Warning: do not keep this in a bank, but only where you can get to it during a bank holiday.
Contents: 1,000 silver dimes; 400 silver quarters; 200 silver half dollars; 20 silver dollars; 20 Silver Eagles; five $5 Gold Eagles; and one $10 Gold Eagle.
The Ron Paul Surivial Kit: $1,675.
Add a Comment
Please
log in
to post a comment