What Really Happened? NYRB.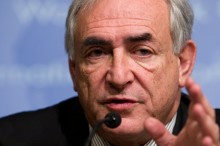 When the Dominique Strauss-Kahn story broke it seemed to embody many of our most potent national narratives: race; class; sex; European degeneracy bested by Puritan virtue.
What if none of that was true? Or what if that narrative was secondary to another that is much more complex and startling?
Edward Jay Epstein suggests that other narrative in the New York Review of Books.
Add a Comment
Please
log in
to post a comment