Ruth Marcus Owns the Cleanest Potty in DC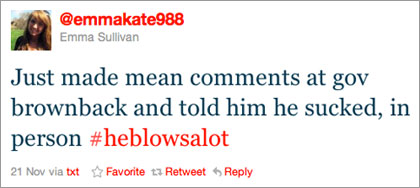 WaPo columnist Ruth Marcus has stern words for Kansas hero Emma Sullivan:
Emma Sullivan, you're lucky you're not my daughter. (Dangerous sentence, I know: My daughters might agree.)

If you were my daughter, you'd be writing that letter apologizing to Kansas Gov. Sam Brownback for the smart­alecky, potty-mouthed tweet you wrote after meeting with him on a school field trip.
We would have told Brownback to eat penguin shit, you ass spelunker, but that's just us.
WaPo columnist Ruth Marcus also deigns to school Kansas hero Emma Sullivan in the finer points of civics:
Of course, Sullivan has a First Amendment right to express her views — although not unlimited.
Kansas hero Emma Sullivan is eighteen, and a full citizen of These Exceptional United States. Except for the drinking part. If we were WaPo columnist Ruth Marcus's mother, we'd tell her to shut the fuck up. But WaPo columnist Ruth Marcus is lucky she's not our daughter.
Add a Comment
Please
log in
to post a comment