Guns N' Rosés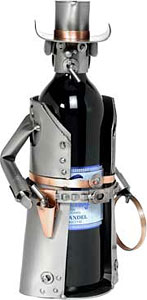 Our guest Black Friday columnist says that mixing firearms and alcohol makes a great gift idea!
Dear NRA Member,
Welcome to the NRA Wine Club powered by Vinesse. The NRA Wine Club offers you the finest selections in great wine finds; selections that are all backed by a 100% guarantee of satisfaction.
Support the National Rifle Association and America's second Amendment rights by purchasing your wine through the NRA Wine Club and have the convenience of home delivery on the finest wines that vineyards all over the world have to offer.
Your purchase will directly benefit the NRA's continuing support of America's Right to Keep and Bear Arms and the other basic freedoms of the American Culture. The NRA Wine Club has been founded on these principals and is bringing you the finest wines that are available.
There are Three Ways to Support the NRA.
Enroll in any of the NRA Wine Club's continual shipping programs
Support the NRA by ordering wine by the bottle or discounted by the case;
as well as joining in our Cyber Circle, where you will begin to receive
member's only exclusive discounts and ordering privileges.
Purchase one of the NRA Wine Club's Limited Edition Wine Series
Thank you for your support of the NRA and using your powerful voice to protect our Constitution. Your purchase of the NRA Wine Club's products will directly support the NRA and all that we stand for. Again, thank you.
Wayne La Pierre
Executive Vice President
National Rifle Association
Image: Cowboy Wine Bottle Holder [Recycled Sculpture]
Add a Comment
Please
log in
to post a comment