Rear Window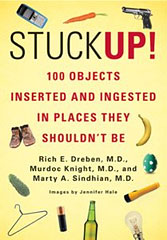 Title: "Stuck Up!: 100 Objects Inserted and Ingested in Places They Shouldn't Be"
Authors: Rich E. Dreben M.D., Murdoc Knight M.D., Marty A. Sindhian M.D.
Rank: 17
Blurb: "How exactly did that cell phone end up there? Was it on vibrate? And is the rectum truly the best place to store your bronzed baby shoes? It is at least somewhat understandable to find a rectal thermometer in its intended place, but how about your six-year-old daughter's Barbie doll?"
Review: "Some of the photos of the x-rays are hard to view on my kindle."
Customers Also Bought: "Awkward Family Pet Photos" by Mike Bender
Footnote: Where are the gerbils? Where are the gerbils?
Buy or Die [Stinque@Amazon Kickback Link]
Add a Comment
Please
log in
to post a comment