You're Doing It Wrong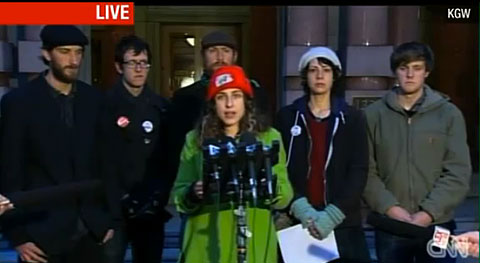 Demonstrating why we haven't been fans of Occupy Wall Street, ThinkProgress chose this morning to highlight a statement from Occupy Portland (attn. Brent Musburger: "Orygun") after the Rose City cops provided them some valuable baton-wielding publicity:
By camping outside the city hall, we gave you a choice to decide to stand with us and with working class Americans. Instead, you made the choice to protect unjust social and economic policies that are leading our nation into a state of financial ruin and institutionalized oppression.
Well, not quite. Portland decided to create havoc restore order in the most awkward way possible. And if you're going to be civil-disobedient squatters, you have to accept that as part of the game — in fact, you have to embrace it. Wrapping yourselves in the flag of the Oppressed is self-aggrandizing, and creates enemies where none existed.
Pro tip: Don't call Portland police agents of the regime. Forgive them. They know not their sins.
Actually, they do, but pretend otherwise. You'll get more mileage that way.
Add a Comment
Please
log in
to post a comment