Park Displace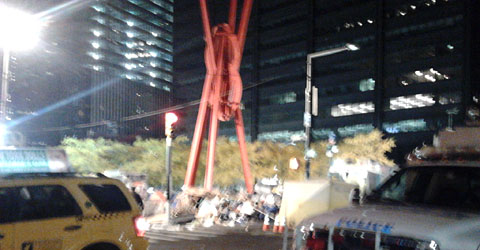 We haven't been fans of Occupy Wall Street — to say the least — but we have to give them partial credit for changing the national conversation. When's the last time you heard about the deficit?
The rest of the credit goes to various police departments in Our Exceptional Nation, starting and — late last night — apparently ending with the NYPD, which forcefully cleared Manhattan's Zuccotti Park.
Without the NYPD — ably assisted more recently by Oakland's Finest — the movement would have labored in the obscurity under which it began. But move some riot cops into a bored crowd of unarmed hippies, and you have ratings gold.
Photo: @JoshHarkinson
Add a Comment
Please
log in
to post a comment