Tales of the Smoking Man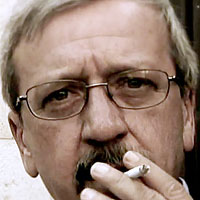 So, is there a Vast Liberal Media Conspiracy to keep Herman Cain! from the White House? His smokin' campaign manager has proof!
Herman Cain campaign manager Mark Block, in an appearance with Sean Hannity on Fox News just now, insisted that a relative of the second woman to publicly accuse the candidate of sexual harassment in the 1990s works at POLITICO.

"Her son works at POLITICO," Block said of Karen Kraushaar, whose name POLITICO printed earlier today after other media outlets made her identity public.
As it happens, Josh Kraushaar was indeed a Politico reporter last year.
But by a nutty coincidence, Josh Kraushaar and Karen Kraushaar are — wait for it — unrelated.
Add a Comment
Please
log in
to post a comment