Andy Kaufman Lives!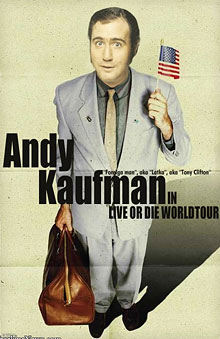 Herman Cain!, Saturday:
Republican presidential candidate Herman Cain[!] said Saturday that part of his immigration policy would be to build an electrified fence on the country's border with Mexico that could kill people trying to enter the country illegally.

The remarks, which came at two campaign rallies in Tennessee as part of a barnstorming bus tour across the state, drew loud cheers from crowds of several hundred people at each rally. At the second stop, in Harriman, Tenn., Mr. Cain[!] added that he also would consider using military troops "with real guns and real bullets" on the border to stop illegal immigration.
Herman Cain!, Sunday:
"That's a joke," Mr. Cain[!] told the journalist David Gregory during an appearance on NBC's "Meet the Press," where he was asked about the electrified fence. "That's not a serious plan. I've also said America needs to get a sense of humor."
Trust us, Mr. Cain!, we're laughing our ass off. The difference between you and Donald Trump is that everyone knew he was a joke.
Add a Comment
Please
log in
to post a comment