Number 9… Number 9… Number 9…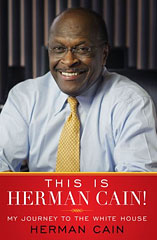 Title: "This Is Herman Cain!: My Journey to the White House"
Author: Herman Cain!
Rank: 10
Blurb: "If you care about the future of America, you have heard of the down-to-earth political newcomer running for president, the straight-talking man of the people with blunt assessments of what America needs. Originally overlooked by mainstream politicos and media, Herman Cain[!] is truly a candidate from 'outside the Beltway,' but no longer one who is being ignored. BUT WHO IS HE?"
Review: "Let Obama be the president that was the country's greatest gun salesmen and the president that caused the greatest awakening in the history of our Country. His agenda and failed policies and extreme left rhetoric awoke the sleeping population on America. He may have saved us from ruin and not by the grace of his actions and policies but the great awakening in opposition to his tyranny and socialism. Herman Cain[!] is just the man to pick up the pieces and put this country back on the right path."
Customers Also Bought: "They Think You're Stupid: Why Democrats Lost Your Vote and What Republicans Must Do to Keep It" by Herman Cain!, "Leadership Is Common Sense" by Herman Cain!, "CEO of Self: You Are in Charge" by Herman Cain!, "Leadership Requires Leadership" by Herman Cain!, "Speak as a Leader" by Herman Cain!, and "Common Sense Solutions: The People's Platform" by Herman Cain!.
Footnote: Where's Victor Borge when you need him?
Buy or Die: The Resurrection [Stinque@Amazon Kickback Link]
Add a Comment
Please
log in
to post a comment