It's Not News Unless the Teabaggers Care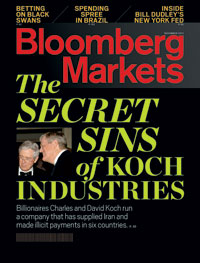 The Shocking! discovery:
A Bloomberg Markets investigation has found that Koch Industries — in addition to being involved in improper payments to win business in Africa, India and the Middle East — has sold millions of dollars of petrochemical equipment to Iran, a country the U.S. identifies as a sponsor of global terrorism.
The Loophole:
Internal company documents show that the company made those sales through foreign subsidiaries, thwarting a U.S. trade ban.
So the teabagger-funding Koch Brothers are — Gasp! — evil. But we already knew that. It'll certainly be fun watching their supplicants dance around the news, but unless wingnuts take up the cause, this ain't goin' nowhere.
Add a Comment
Please
log in
to post a comment