Gov. Good Hair at the OKKK Corral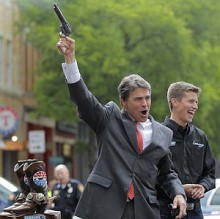 The Washington Post reported today that "Niggerhead" was the name of Rick Perry's family hunting camp and ranch in West Texas. The word was also painted in three-foot high block letters spread across a 5 foot wide rock at the entrance to the ranch.  The word has now been painted over in white paint and the rock has been turned over.
Ranchers who once grazed cattle on the 1,070-acre parcel on the Clear Fork of the Brazos River called it by that name well before Perry and his father, Ray, began hunting there in the early 1980s. There is no definitive account of when the rock first appeared on the property. …But the name of this particular parcel did not change for years after it became associated with Rick Perry, first as a private citizen, then as a state official and finally as Texas governor. Some locals still call it that.
Herman Cain is pissed. Unclear if Cain is surprised.
Add a Comment
Please
log in
to post a comment