Irene in the Catskills.
The places in this video were shot about five or six miles west of where we live. Mt Tremper was a quiet little creekside community on the way to the village of Phoenicia. It's almost completely gone. The damage in this region is considerable. Villages have been devastated. (You'll have to cope with the music. They mean well.)
We don't have rivers here. They're creeks. The creek you see raging is the Esopus. This picture was taken between Mt Tremper and Phoenicia on a sunny day in early fall. This is how it usually looks here.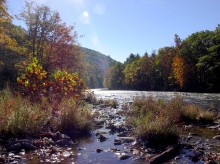 Further west is the village of Margaretville, built on the bank of the East branch of the Deleware at the confluence of a couple of creeks coming down from the reservoir to the north. The release system failed and millions of gallons were dumped on the village. We lived there when there was a freakish flash-flood about fifteen years ago. The restoration and improvements had just been completed. Following the flood, the Army Corps of Engineers installed extensive flood control barriers and embankments all along the Esopus. This was Margaretville during during Irene.
I'm posting this because I don't think the rest of the country understands quite how bad it was here. I didn't for a couple of days. We're high enough to have escaped flooding. The worst we had to cope with was no power, fallen trees, and closed roads.
West of us will take years to recover. Cantor's talk is not going down well in what are predominantly Republican districts.