Americans Derelict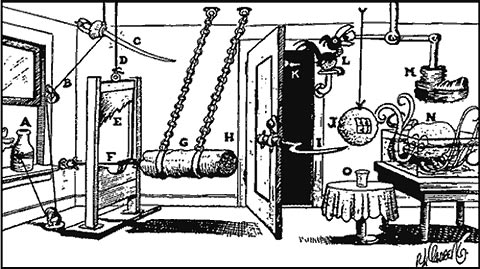 We ignored Thomas Friedman's column this week, because we always ignore Thomas Friedman's columns, and ignoring Thomas Friedman's columns is a right we cherish as an American.
However, upon reflection and incessant reminders from all over the fucking place, we realize that we have made a mistake — an exceptional mistake — because finally, Thomas Friedman has removed the mask and revealed himself to be a Tom Tomorrow cartoon:
Thanks to a quiet political start-up that is now ready to show its hand, a viable, centrist, third presidential ticket, elected by an Internet convention, is going to emerge in 2012. I know it sounds gimmicky — an Internet convention — but an impressive group of frustrated Democrats, Republicans and independents, called Americans Elect, is really serious, and they have thought out this process well. In a few days, Americans Elect will formally submit the 1.6 million signatures it has gathered to get on the presidential ballot in California as part of its unfolding national effort to get on the ballots of all 50 states for 2012.
Yes, an "Internet convention" does sound gimmicky, unless you're talking about Comic-Con. But more to the point, it also sounds profoundly naive — because it focuses solely on one office.
Oh, and it also produces counterproductive results.
Bill Clinton, you might recall, won an electoral landslide in 1992 with only 43 percent of the vote — barely 5 points ahead of Bush I. And proto-teabagger Ross Perot's nearly 20 million spoiler votes didn't come from the left. Any third-party "centrist" candidate would only split the Obama vote, handing 2012 to Michele Bachmann and confirming Mayan prophecy. Now there's a gimmick.
But let's say the indie Centrist candidate somehow gets elected. Now he or she just has to work in a world of Democrat and Republican congresscritters, Democrat and Republican governors, Democrat and Republican legislators, Democrat and Republican dogcatchers…
It may not be a recipe for failure, but it's certainly not a recipe for success. We would suddenly live in a world of coalition government, with the ultimate leverage wielded by whoever held the deciding votes. Which, come to think of it, is the government we already have.
Even more, it smells like the government we already have, with plutocrats running the show:
"Our goal is to open up what has been an anticompetitive process to people in the middle who are unsatisfied with the choices of the two parties," said Kahlil Byrd, the C.E.O. of Americans Elect, speaking from its swank offices, financed with some serious hedge-fund money, a stone's throw from the White House.
This is where Friedman takes the turn towards cartoon: He's clearly impressed by swank offices and serious hedge-fund money, where we might rush outside to vomit on the sidewalk.
But the best part is at the end, where Friedman revives our fond memories of the confident utopian predictions of early Wired:
Write it down: Americans Elect. What Amazon.com did to books, what the blogosphere did to newspapers, what the iPod did to music, what drugstore.com did to pharmacies, Americans Elect plans to do to the two-party duopoly that has dominated American political life — remove the barriers to real competition, flatten the incumbents and let the people in. Watch out.
That should take less than one Friedman Unit to resolve.