Emphasis on "Ex" Girlfriend
I think we can safely predict who is not getting laid tonight, or for a long time in the future.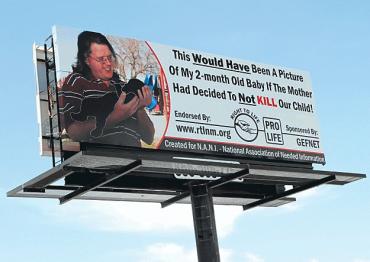 A New Mexico judge yesterday ordered Greg Fultz, 35, to immediately take down a billboard on a main street in Alamogordo that implies his ex-girlfriend had an abortion.  The woman sought a protective order to remove the billboard, which shows Fultz holding the outline of an infant. The text reads, "This Would Have Been A Picture Of My 2-Month Old Baby If The Mother Had Decided To Not KILL Our Child!"
Holding aside his abuse of the English language, Fultz's ex-girlfriend has taken him to court for harassment and violation of privacy. Her attorney told reporters it was irrelevant whether or not her client had ever been pregnant.