Oh. Right. Libya.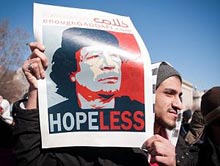 Like most God-Fearing Americans, we've been completely ignoring the Middle East, since dictators aren't known for dick-tweeting. But it appears our Instamatic Slumber (sorry, no prize for unpacking the references) will soon be coming to an end:
A bipartisan group of House members announced on Wednesday that it is filing a lawsuit charging that President Obama made an illegal end-run around Congress when he approved U.S military action against Libya.

"With regard to the war in Libya, we believe that the law was violated. We have asked the courts to move to protect the American people from the results of these illegal policies," said Rep. Dennis Kucinich (D-Ohio), who led the 10-member anti-war coalition with Rep. Walter Jones (R-N.C.).
Yes, well, Kucinich, we know. But Agent Orange is also threatening to dust off the 1973 War Powers Resolution if we don't stop kinetically acting in Libya by Friday, and the White House is making its case today. Time to grow up and put on our Big Boy pants, we guess. And this time, leave them zipped.
Add a Comment
Please
log in
to post a comment