Oh Shoot, Mitt Romney is a RINO, for Believing in Science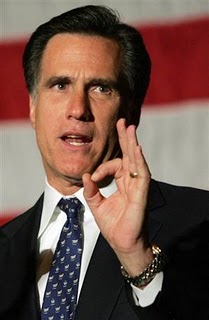 Everyone's handsome uncle, Mitt Romney, is saying things that are getting him in trouble, because he is again giving credence to "theories" based on "fact" and "evidence." That's right, Romney said:
I believe the world's getting warmer
And, wait for it:
I believe that humans contribute to that.
In case any of you forgot that Romney used to live in Massachusetts, where driving cars is banned and I personally have served on several death panels (So Fun, Guys!), you can now go on and remember that again. Which is what Rush Limbaugh did, and then he decided:
Bye-bye, nomination . . . The last year has established that the whole premise of man-made global warming is a hoax, and we still have presidential candidates that want to buy into it.
I guess I had forgotten about last year, when we all got together, like we do every winter, and decided that global warming was a hoax, because of winter. Anyway, I doubt Limbaugh is right in claiming it's over for Romney, but this will make it even more difficult for Uncle Mitt to defeat whatever gotcha question dodging, abortion clinic bombing tinfoil hatter the Tea Partiers support.
Because as it stands, some Republicans will be creeped out because Romney is Mormon or Wiccan or something not appropriately CHRISTIAN. Some  Republicans will be vexed because he said something rational about a widely observed natural trend that liberal elites also happen to believe in. The good news is that these two groups are the same people. The bad news is that, at this point, they comprise the entire Republican party except for that weird little wedge that is just there to make some more money.
Add a Comment
Please
log in
to post a comment